Can't adopt or foster but want to contribute? We take in many pups that may not be immediately adoptable...if ever,for a variety of reasons; some have constant medical needs or are going through heartworm treatment; some are in the final stages of illness or are just too old too be moved around; some have special emotional needs. These dogs continue to be sponsored by Limbo and people like you for the rest of their time with us.
Marky
Breed: Chihuahua
Size: 6 lbs
Age: 1 y/o
Rescue: October 6, 2019
Poor little Marky had an injury when we rescued him from the parking lot. It appears that his femur may have been dislocated or some other type of traumatic injury. Today (11/8/19) he went in to have it repaired. We are hopeful for a full recovery!
We can do these things because of supporters like you. Please consider donating towards his surgery.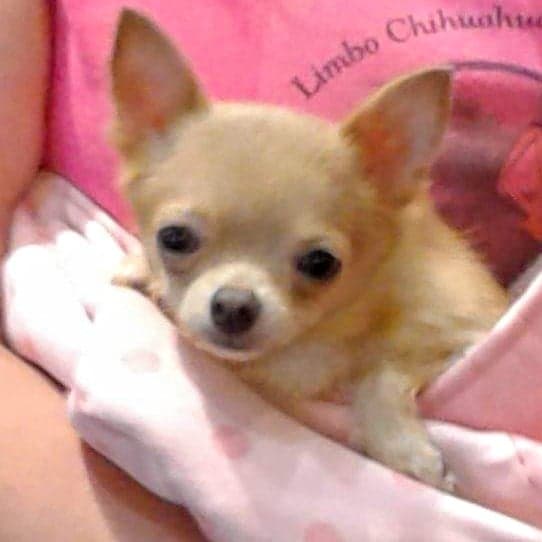 Parking Lot Pups
Breed: Chihuahuas
Size: Mom and Puppy
Age: to be determined
Rescue: October 6, 2019
I can't say this story is unusual but, we got a call....someone found a box with these two precious souls inside. The box was sealed and there was no way these two could have gotten out to get some water or escape the heat. We have taken them in and will be getting them evaluated this week. Mom seems to be okay if a little cautious. Puppy is lethargic and we hope all is okay.
Please consider helping us help them.
Junior
Breed: Tiny Fuzzy Chihuahua? Yorkie mix
Size: 2 lbs
Age: puppy
Born: July 3, 2019
We need all the healing vibes we can get! Little junior had a very severe seizure and his future is literally hanging by a thread. He is staying at Blue Pear until we can figure out what is going on with our little guy.
We nee your help. Overnights in the ER is an unexpected strain for our little rescue. Please help us help the pups in our care.
Just a quick update, our little Junior is doing well and wreaking havoc with his foster siblings. He is being fostered with a couple of other dogs and a cat.... puppies can be exhausting!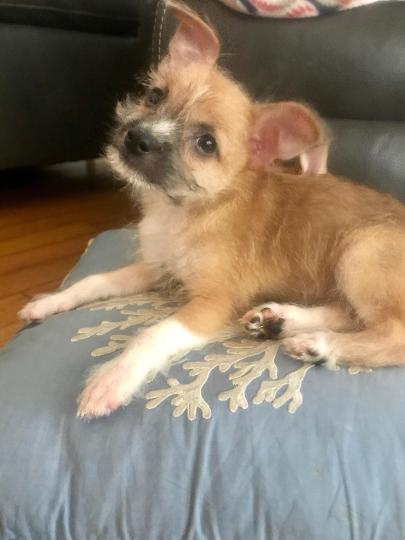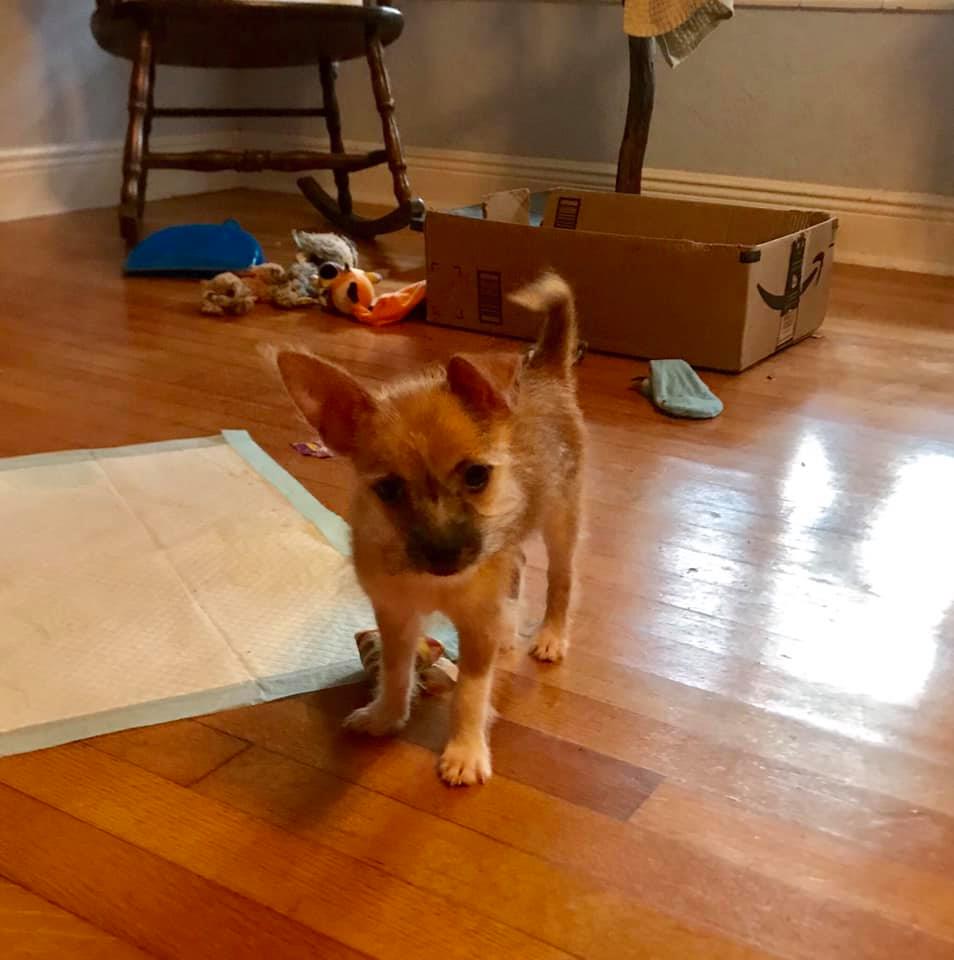 Nellie
Breed: Chihuahua
Size: 5 lbs
Age: 10+ y/o
Rescue: June 13, 2019
Poor Nellie has gone through her first surgery to remove her mammary tumors. When she is all healed up she will have to go in and get the other side removed. She most definitely was not a happy girl with this first go around! Foster mom has been pampering her and fulfilling her every whim and she is showing her true self once again.
More than a quarter of unspayed female dogs will develop a mammary tumor during their lifetime. The risk is much lower for spayed female dogs, male dogs, and cats of either gender. In female dogs, 50% of mammary tumors are benign and 50% are malignant. Unfortunately these numbers go up with repeated breedings.
Please help us continue to help dogs like Nellie.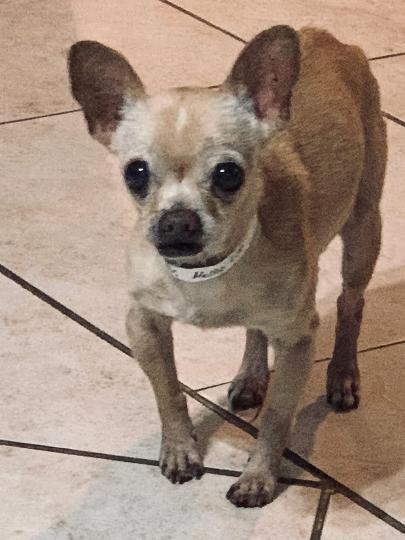 Cleo
Breed: Tiny Fuzzy Chihuahua
Size: 5 lbs
Age: 16+ y/o
Rescue: April 5, 2019
Little Cleo found herself all alone and without a home. Luckily we found her and brought her into our village. Cleo has a serious heart murmur and, although spunky, is pretty fragile. Her care will be sponsored by Limbo and she will be fostered with love and new adventures to last her a lifetime.
Casper
Breed: Tiny Lab Creature? (Bag of surprises)
Size: 16-20 LBS
Age: 2 y/o
Rescue: Aug 7, 2019
Little Casper found himself in the shelter in bad shape. His leg is very damaged and the doc thinks Casper will make a wonderful tri-pod. He is very loving and even made it through the vet evaluation with flying colors. We cannot wait to see him bloom!
His appt is on Aug 13 and we will post updates as we can. Please consider donating to his care.
Casper's appointment was moved to Friday, Aug 16, While we wait for additional information, check out this wonderful article in The Gabber! Thank you so much to Debbie Wolfe for her article and photos.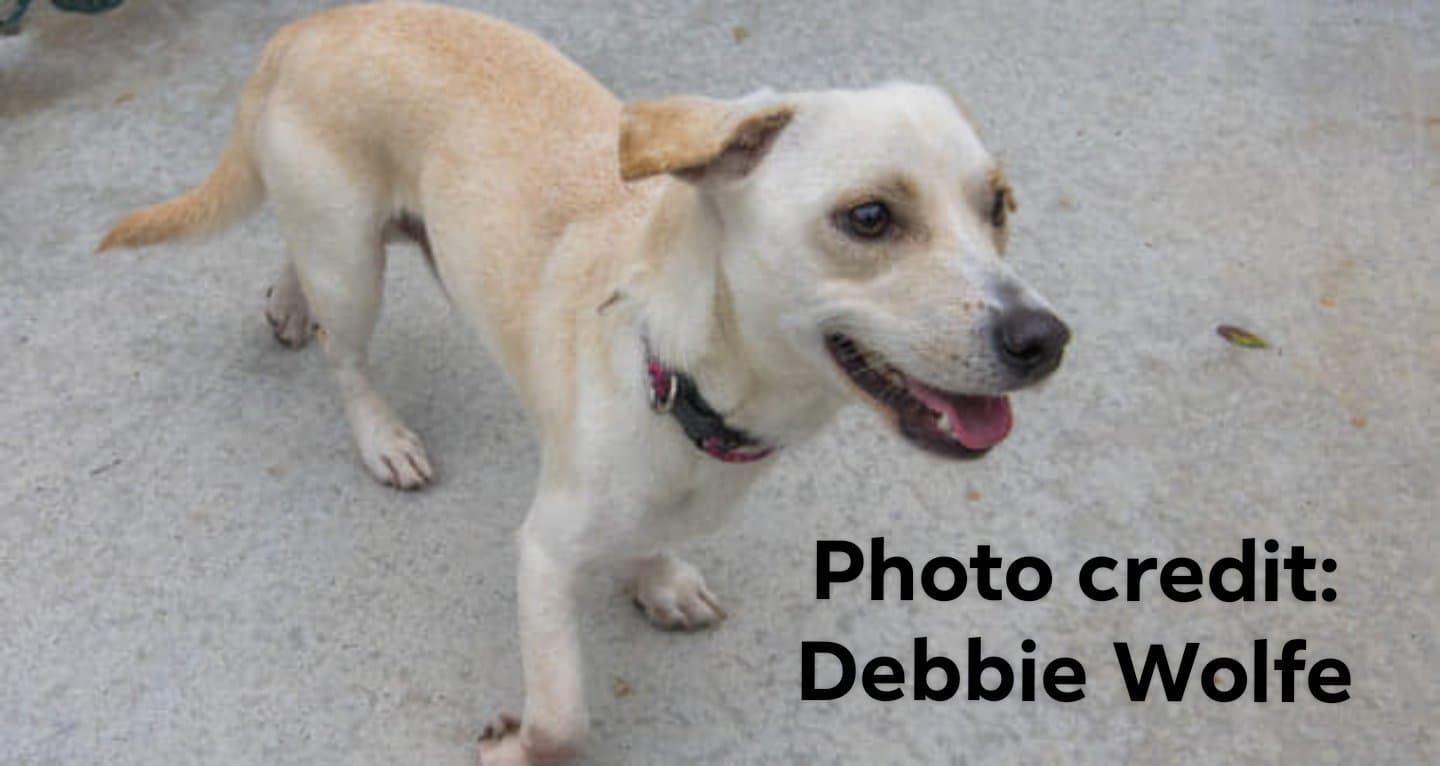 Update: 08/15/2019 post surgery
Little Casper has made it through surgery with flying colors! He is all stitched up and resting comfortably. Foster mom left him one of her shirts to snuggle and the very kind tech, Janet, is staying the night with him.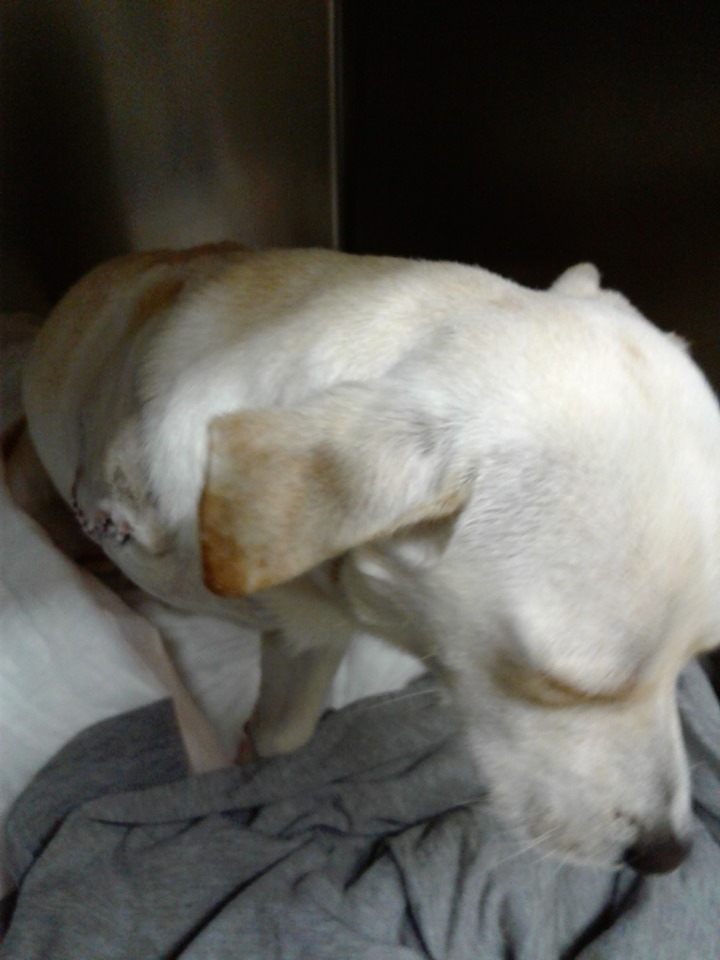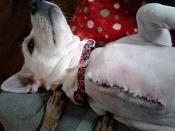 It was pretty dreary outside when we brought Casper home, but you wouldn't have known it. All his foster friends were so excited to see him and they all snuggled down for an afternoon nap together.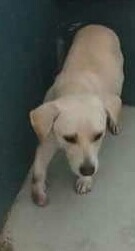 Update: Adopted 09/23/2019
He has the cutest new siblings!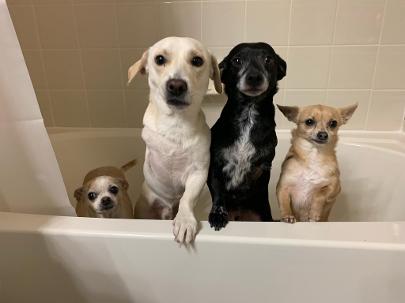 Matilda
Breed: MinPin-mix
Size: 10 lbs
Age: 10 years
Rescue: April 8, 2019
Did you know that more than a quarter of unspayed (or spayed after the age of 2) dogs will develop a mammary tumor? Those tumors have a literal 50% chance of being malignant. Unfortunately for our girl that is the case. She has already gone through surgery to remove one side and the goal is to remove the rest of the cancer on the other side. X-Rays will be needed to determine the full extent of her cancer and we are hoping for the best. She is also heartworm+. We have sterilized the worms and they will die off with time and continued preventative.
Despite her age and medical conditions, she is outgoing, energetic, and full of devotion!
Please consider helping us help her and the others like her.
Gail
Breed: Chihuahua
Size: 8lbs
Age: 14 y/o
Rescue: 03/17/18
As many of you know, several of the dogs we get may have medical, behavioral or a combination of, that make them difficult to adopt or even adoptable at all. Gail is one of those little ones. She came to us with a severe heart murmur, a large hernia, and malignant breast cancer! Gail is a senior at 14 y/o!
Here is what her foster wrote for her:

Hi! I am Gail but my foster mom calls me Gracie. She says only by the grace of God I was rescued from a life of abuse by the wonderful people at Limbo Chihuahuas. In this picture I am leaving the vet after having massive surgery. I am 3 pounds and had a large hernia and many tumors in my breast. They were removed plus I was spayed. My mom is smiling because I made it through surgery and was only given a 50 50 chance due to my age and health. The surgery was very expensive and but for the generous donors of the rescue my having a future would not have been possible. I enjoy a spa visit monthly and my favorite treats daily. Plus lots of hugs and I love yous from my mom.
And we might add the love of Chihuahua fans! Thank you for all of your support!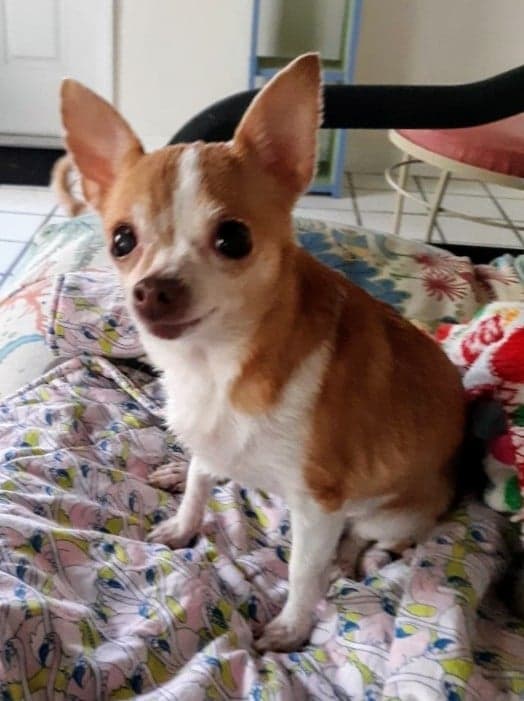 Nellie
Breed: Chihuahuas
Size: 6lbs
Age: 13 y/o
Rescue: 06/13/19
Meet little Nellie, unfortunately her owners left her at the vet because they could not afford her vet bills. We were contacted and agreed to take her on.
She has a grade 3 heart murmur and is beginning medications! She also has mammary tumors and cannot undergo surgery until her heart is a little more stable.
Let's all send healing vibes and maybe a few dollarsto this adorable little lady!!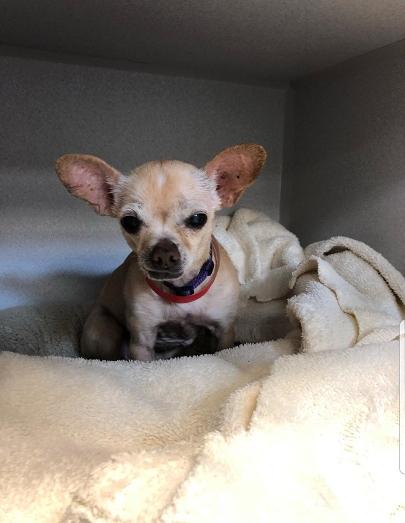 Roscoe
Breed: Chihuahua/ Beagle
Size: 10 lbs
Age: 13 years
Rescue: May 1, 2015
Poor little Roscoe found his golden ticket when he found himself in rescue! He came to us HW+ and had very little medical care his whole life. He recently was showing his foster momma his teeth, he does that sometimes. Well, she noticed that one of his teeth wasn't looking so great.
We all know that those doggie dentals can be a bit pricey. But, Roscoe is worth his weight in pennies...haha. Just kidding, we adore this little boy.
...Roscoe is heartworm free and came through his dental with flying colors. Due to continued personality issues and health complications from the years of heartworm infection, Roscoe has been moved into fur-ever foster. His foster parents have committed to his care and happiness for the rest of his life. Limbo will continue to support him the rest of his life also.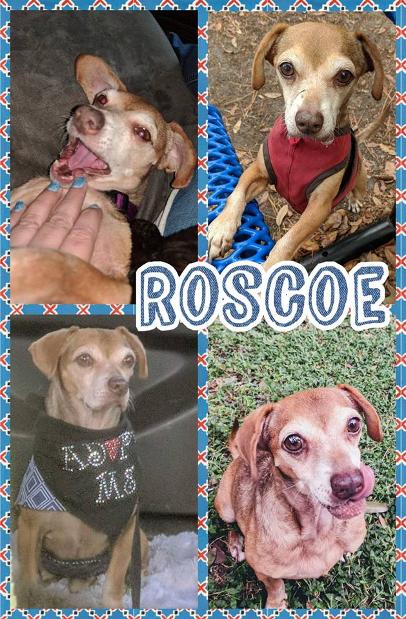 Rocky
Breed: Chihuahua/ Daschund/Min Pin (?)
Size: 12 lbs
Age: 2 years
Rescue: September 10, 2017
Rocky is our little fighter. He was found on the streets of Miami shortly after Irma blew her way through the state. From the start he has had an upbeat attitude. After seeing many specialists it was determined that surgery would not be able to help our little boy.
Rocky now receives regular laser treatment. We received some very generous donations and he is learning to roll faster than we can keep up! Please consider donating to his ongoing care until he finds a home of his own.
Bambi
Breed: Chihuahua
Size: 6 lbs
Age: 10 years
Rescue: Early 2016
Bambi is a forever foster, meaning Limbo will cover the cost of her care for the rest of her life.
When she came to us, it was discovered she had tumors on all her breasts due to over breeding. After enduring two separate surgeries, a cancerous throat tumor was found. She doesn't seem to notice and we are just fine with that. Recently she presented with a painful tumor on her belly. The doc agreed to remove it and removed some of the lumps in her neck. She has one more tumor to be removed and hopefully she will be back to her lovely self.
Please consider donating to her care so we can continue to save more pups like her.
Alma
Breed: Jack Russle/Chihuahua
Age: Senior
Rescue: Aug 26, 2017
Poor little Alma was picked up broken and sad...literally. We just couldn't leave her at the shelter like that. Unfortunately she lost her leg in the ordeal and recently we found out our frail little girl has the big C. Alma is now in a fur-ever foster home and we are forever grateful to her fosters!
Hubert
Breed: Chihuahua/Beagle
Age: Senior
Rescue: May 10, 2017
This poor little oldman has a large tumor among other health issues and is now in fur-ever foster care. Hubert is in a special loving home and we are over the moon happy for him! Limbo will continue to help sponsor his needs to keep him comfortable in his golden years!
What is heartworm?
Heartworm disease is a serious and potentially fatal disease. It is caused by foot-long worms (heartworms) that live in the heart, lungs and associated blood vessels of affected pets, causing severe lung disease, heart failure and damage to other organs in the body.
How does a dog get heartworm?
A: Only by the bite of an infected mosquito. There's no other way dogs get heartworms! It takes about seven months, once a dog is bitten by an infected mosquito, for the larvae to mature into adult heartworms. They then lodge in the heart, lungs, and surrounding blood vessels and begin reproducing.