Available for Adoption
Unless otherwise stated, all adoptable dogs are micro-chipped, spayed/neutered, heart-worm negative, and up to date on shots and any other necessary healthcare.
Belle
Breed: Chihuahua
Size: 8lbs
Age: 11 y/o
Rescue: 04/15/15
SPECIAL NEEDS ALERT,
Belle has been in Limbo for 3+ years!
From her foster-
Bell Lou as we call her...
Came to our home almost 3 years ago in October. She was so overweight she could not even get up one low stair. She was neglected and mistreated and kept in a garage for years..as a result she had untreated diabetes and almost no hair. The veterinarian actually thought she was a hairless Chihuahua!
It took awhile to get her weight down and although she is now a normal weight, she has diabetes because of the long term effect of being so overweight. She does require 3 units of insulin twice a day at her feeding. She tolerates this wonderfully. Of the last almost three years she had gotten almost all her hair back but is still a bit sparse on her head and abdomen.
She is absolutely a delightful dog. She loves to go for walks and chew squeeze toys, she loves to be with you on the couch and will snuggle under the covers with you. She is very smart and barks to go outside or if she can't get to her water or if her blanket is taken by another bedmate.
Her insulin will cost about $70.00 every two months so that is a consideration. But she would make a great companion for an older person who is able to give injections.
She is about 11 years young.
All her shots are up to date.
Please consider adopting her and give her a loving home.
As you can see in the pictures she gets along with most other dogs but she does tend to like to be the only one to get attention!
Rocky
Breed: Chihuahua/ Dachshund/Min Pin (?)
Size: 12 lbs
Age: 2 years
Rescue: September 10, 2017
Rocky is our little fighter. He was found on the streets of Miami shortly after Irma blew her way through the state. From the start he has had an upbeat attitude. After seeing many specialists it was determined that surgery would not be able to help our little boy.
Rocky now receives regular laser treatment and has been fitted with a wheelchair. He is very fast and can out run most people, we learned that recently!
Honey
Breed: Chihuahua/Pomeranian
Size: 10 lbs
Age: 11 years
Rescue: July 27, 2018
This girl is so pretty! She likes to take naps and go for walks. She is house trained and will let you know if she has to go out. She isn't overly cuddly but does like to watch what is going on. She isn't fond of being picked up and if she isn't comfortable she may nip. She is tolerant of cats as long as they don't get in her face, she will ask them to back off. She is a delight tho and taking her for a walk is so pleasant. She is 11 y/o, was adopted at the age of 2 and was with the same gentleman until this year.
Wawa
Breed: Chihuahua mix

Size: 10-12 lbs
Age: 2-3 yo
Rescue: Sept. 1, 2018
Wawa was adopted and then lost. After almost a year left in someone's back yard she made it back to her adopter. Unfortunately he was unable to care for her...Wawa has finally made it to rescue where she will get the love she deserves!
Wawa needs to be in a home with at lease one other dog. She has some separation anxiety that only another dog can help quell.
Breed: Pomeranian
Size: 26 lbs (obese)
Age: Adult
Rescue: Dec. 24, 2018
Peppy will need an extended decompression time. His agressive behavior needs to be addressed further. At this time he would need an experienced handler. He is about 2 y/o so may be able to overcome this issue.
. ....Peppy just arrived and is in need of a foster of fur-ever home that understands his needs. He needs some time to adjust to his current situation and can be a little nippy. He also needs to lose almost half his weight, he weighs 26 lbs. This boy needs some serious love!
Max
Breed: Chihuahua Mix
Size: 10 lbs
Age: 5 years
Rescue: January 25, 2018
Max is a very active and playful boy. He adores his doggy friends. We believe he was an outside dog so is having some adjustment time. His current issue is, he will take over the couch and not let anyone on it. He can become nippy if he doesn't get his way. We know there is a good boy in there!
Pete
Breed: Chihuahua mix
Size: 8lbs
Age: 1 y/o
Rescue: Feb 10, 2019
This playful guy is looking for an active family or even a playmate.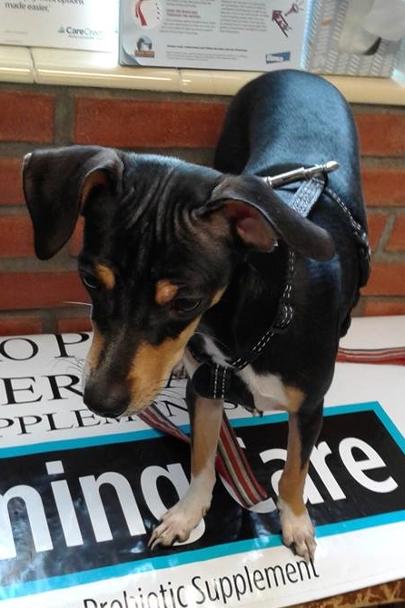 Tulip
Breed: Chihuahua/Rat Terrier
Size: 12 lbs
Age: 4 years
Rescue: April 12, 2019
Oh, our pretty Tulip. She came to rescue with a litter of puppies. She then hit the jackpot and was adopted into a wonderful home, with cats! She loves cats. Unfortunately, dad developed allergies and she had to come back to us. She has been trying to find the perfect home, could that be you? She loves to walk and snuggle.
Pinto
Breed: Chihuahua
Size: 6lbs
Age: 6 y/o
Rescue: 01/27/19
SPECIAL NEEDS ALERT
We have a very special boy looking for a very special home. This boy is such a sweetheart, to his people. Upon first meeting you, he will not like you. Give him time and he will be nuzzling you for affection. He is on seizure meds that are only about $10-$20 a month. He recently had a dental, and lost all but 11 of his teeth on the bottom. He's still on soft food but that may progress to something a little more solid. He has a favorite toy that he loves to shake and tease the other dogs with. He is currently being seen at Humane Society in Tampa. If he switches veterinarians, they will need to know that any procedures will probably have to be done with nitrous. He loves to walk but he has wobbly knees so being carried is just fine. He is crate trained, but may not need to be in one. He is also potty trained.
His foster mom loves him very much and will be happy to answer any questions you may have. If you're willing to take on this sweet, 6lb, six-year-old, feisty boy, please message us or fill out an application.