Special Pups Looking for Special Homes
Breed: Chihuahua/Terrier
Size: 6 lbs
Age: 3 years
Meet little Gibbs! Gibbs is a very cute little 5 pound boy who loves walking in circles, playing with his little toys and his friends! Gibbs has some very special needs! He is developmentally disabled and does have seizures. He catches on after a little bit and is so capable of building a bond with his person. He loves to greet his foster mom and is very affectionate. This affection does take time to develop. Gibbs is up to date on his vaccines and on heartworm preventative. Gibbs is on medication for his seizure activity and is responding nicely.
Breed: Chihuahua Mix
Size: Small
Age: Adult
Belle is a wonderful little girl - loving and sweet. Belle discovered play and grass at her foster's and has done very well with other dogs and cats! Belle came to us as an emergency with compromising health issues. She was extremely overweight and was being given way too much insulin for her diabetic condition.
Although we had hoped to get her off of the insulin, we were not completely successful. However, her foster was successful in helping Belle lose her excess weight so her insulin could be regulated to the correct amount. Belle will always need her insulin 2x daily so she is a special needs girl! (First 2 photos are from before she lost all her weight!!!)
Breed: Chihuahua
Size: 3 lbs
Age: 5 yr
Meet our special needs little love bug -ChiChi! Although she does not have a liver shunt, she doesn't have a perfect liver either and will remain on r/d food which she loves! She also has motor control issues. ChiChi is indeed special needs but loves going out to party. She is social and playful!
Special Pups in Fur-Ever Foster Homes
These two girls spent their entire lives in a small shed, having puppy after puppy. The authorities in Jacksonville shut the back yard breeder down and the rest is history. We affectionately call them the sea hags...at 20 years old, missing half their fur and most of their teeth they still sure are cute! These two are in a forever foster home that we will continue to sponsor for as long as they see fit to stay with us!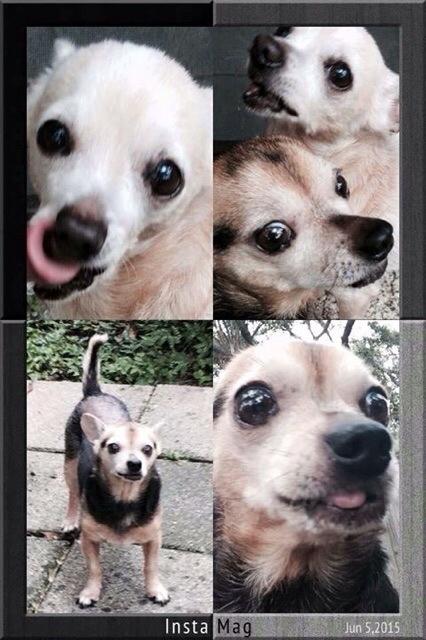 Bambi is a forever foster, meaning Limbo will cover the cost of her care for the rest of her life.
❤️ When she came to us 2 years ago it was discovered she had tumors on all her breasts due to over=breeding. After enduring two separate surgeries, she was found with a cancerous throat tumor. She doesn't seem to notice and we are just fine with that.